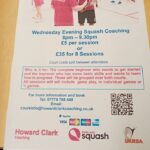 With our coach Howard Clark.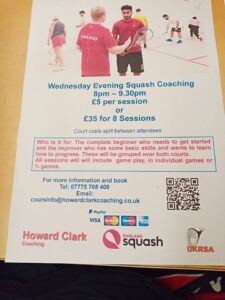 Wednesday Evening Squash Coaching
8:00pm — 9:30pm
£5 per session
or
£35 for 8 Sessions
Court costs split between attendees.
Who is it for?
The complete beginner who needs to get started
and the improver who has some basic skills and wants to learn how to progress.
These will be grouped over both courts. All sessions will include game play, in individual games or 34 games.
For more information and to book,
Tel: 07775 768 400
Email: coursinfo@howardclarkcoaching.co.uk
Howard Clark Coaching